If you're planning on opening the cottage during the May long weekend, chances are it's the first time you and your family/friends have seen it in months. You know as well as we do – there will probably be a few surprises waiting to greet you.
Use the following checklist to properly open your cottage and check for pest entry points and infestations.
1) Check The Exterior
Start by doing an exterior examination of your cottage. Look for common pest entry points such as torn window/door screens and holes in the soffits, roof and siding. Animals and pests can also find their way inside through chimneys, small openings around windows and doors, or roof venting. Look closely around the cottage for wasp and hornet nests, too.
2) Take Caution When Entering
When entering your cottage, carefully check to see if there are any obvious or suspicious signs of animals or pests inside. As difficult as this might be, make sure your kids don't charge right into the cottage right away. Even a small mice infestation could be very dangerous, as their droppings could potentially be dangerous to you and your family's health.
3) Examine The Kitchen
Take a look around to see if any food or garbage might have been left behind by accident last time someone was at the cottage. Check inside the cupboards and drawers. Finding mouse droppings is the most common sign of a cottage pest infestation. Do not take this lightly, as deer mice (which are common in the Kawarthas and surrounding area) are the most common carrier of the deadly Hantavirus. Hantavirus pulmonary syndrome can develop from inhaling the virus when deer mouse urine or feces is disturbed.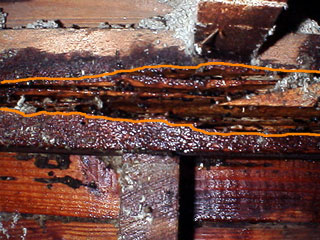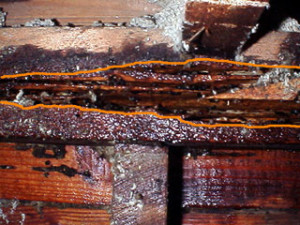 4) Inspect Pest "Hot Spot" Areas
Inspect your cottage's attic, crawl space, window/door frames, baseboards, and decking for damage and any unusual marks. If you see what looks like small tunnels or saw dust shavings, there's a strong chance your cottage has become home to a carpenter ant colony.  Carpenter ants often burrow into wood, creating tunnels and damage to a cottage's structure. Continue checking the pest "hot spots" of your cottage and remove any spider webs while spiders are not in them, and be on the look out for cockroaches.
5) Remove, Seal, and Clean
A quick spot check and clean up will help prevent future pest infestations at your cottage during the summer months. Remove any overhanging tree limbs, dead tree stumps, correct wood to soil contact around the deck, seal up gaps and cracks, and sweep under the baseboards.
If you notice any signs of a pest infestation, contact Miller Pest Control. Our professional pest technicians would be happy to inform you on what steps need to be taken to get rid of your pests problem.